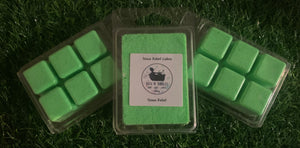 Put how even many  shower steamers in the corner of your shower let the water sprinkle onto it wait for the scent to hit you .
Giving you some relief from the cold .
Great for Clearing your sinuses.
Ingredients : Bicarbonate soda, Citric Acid, grapeseed oil, water, skin safe colourant , fragrance oil, Corn Flour, SLSA
  & Poly 80.
IF IRRITATION OCCURS CEASE USE 
DO NOT INGEST 

Can cause a slippery bath.
Wipe out bath after use. 
Can cause temporary staining to skin and bath.