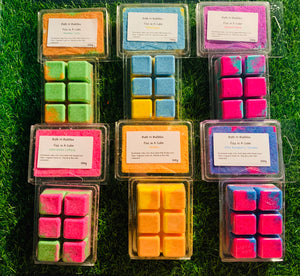 💚New Kids Product 💜
💙Set of 6 Rainbow Kids Fizz In A Cube 🧡
💜All 6 Cubes Have a different Scent 💚

Pink & Purple / Blue Raspberry Slurpee
Blue & Yellow / Bubblegum 
Pink & Teal / Unicorn Farts 
Orange & Yellow / Skittles
Green & Pink / Watermelon Lollipop Green & Orange / Monkey Farts 
Ingredients : Bicarbonate soda, Citric Acid, grapeseed oil, water, skin safe colourant , fragrance oil, Corn Flour, Milk Powder  & Poly 80.
IF IRRITATION OCCURS CEASE USE 
DO NOT INGEST 

Can cause a slippery bath.
Wipe out bath after use. 
Can cause temporary staining to skin and bath. 

Colours may vary per batch but will not affect use.