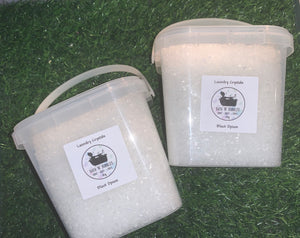 Laundry Crystals 
The Best you'll ever Use that's a Promise .
Soften and fragrance your laundry
Laundry Crystals are super versatile, as they can be used in so many places to keep nasty Odours at bay. Some places you might like to use these crystals are
A couple of scoops in your laundry will have your clothes smelling the best 
Sprinkle some in the bottom of your rubbish bin/bag
Suck some into your vacuum, so next time you open to empty, it won't be so yucky
Scoop some crystals into a breathable bag and place the bags throughout your home, for example, into linen cupboards or drawers
These are just a few of the possibilities. These crystals can be used just about anywhere.